A global view
How does Canada fare in relation to international benchmarks and targets? Which countries have the best results and how can we learn from them? It's our job to help answer these questions. International Comparisons at CIHI, released in February, provides key highlights from our international reports, featuring our work and that of our partners around the globe.
In 2016, CIHI participated in The Commonwealth Fund International Health Policy Survey, which compared access to medical care and patient experience in 11 countries. The survey shows that Canadians continue to report some of the longest wait times in doctors' offices and emergency departments. However, the Canada average for quality of care received from regular health care providers was higher than the international average.
Finally, CIHI developed a web tool that compares Canada's international performance on premature mortality and published a report that looks at the performance of 17 other high-income countries from 1960 to 2010. The report shows that Canada has made substantial improvements in population health over the last 50 years, but compared with peer countries, it has maintained an average performance over time.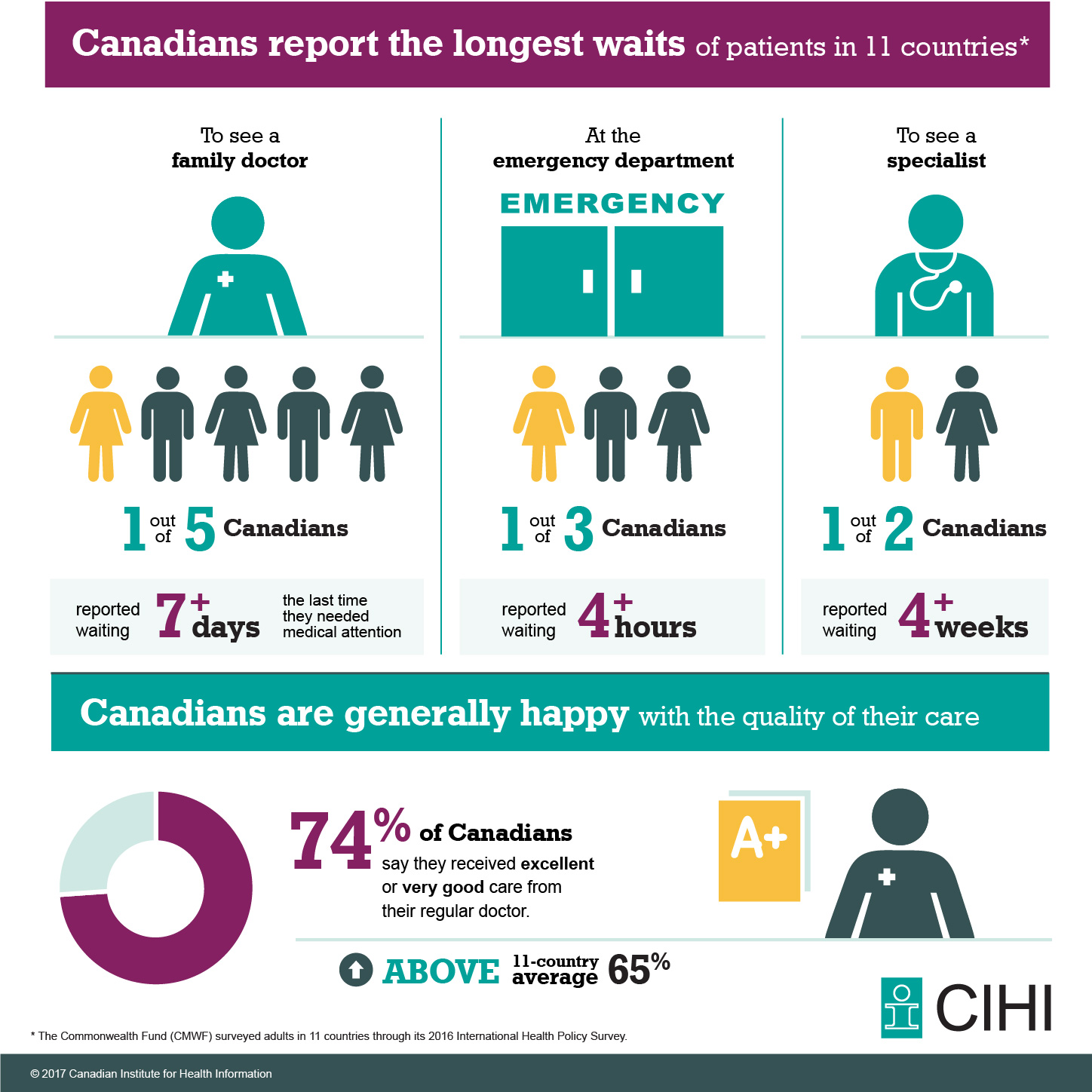 This infographic shows some of the findings from our 2017 report How Canada Compares: Results From The Commonwealth Fund's 2016 International Health Policy Survey of Adults in 11 Countries.
Canadians report the longest waits of patients in 11 countries.
1 out of 5 Canadians reported waiting 7 or more days to see a family doctor the last time they needed medical attention.
1 out of 3 Canadians reported waiting 4 or more hours the last time they went to the emergency department.
1 of out 2 Canadians reported waiting 4 or more weeks to see a specialist.
Canadians are generally happy with the quality of their care.
74% of Canadians say they received excellent or very good care from their regular doctor, which is above The Commonwealth Fund 11-country average of 65%.